Now available… three new additions to the US Aerospace Projects series.
US Bomber Projects #15
USBP#15 includes:
Bell D2001: A 1957 eight-engined Bell VTOL strike plane for the Navy
Lockheed "Harvey": AKA the Hopeless Diamond, Lockheeds first design for what became the F-117
Convair Model 35: An early push-pull concept for the B-36
Rockwell D661-27: A nuclear powered strategic bomber
Boeing Model 464-49: The penultimate major design in the development of the B-52
Boeing Model 988-123: A highly agile stealthy strike fighter
Boeing Orbital Bomber: An early concept for a Dyna Soar derivative with eight nukes
Boeing Model 701-251: A twin engined concept on the road to the XB-59
USBP#15 can be purchased for downloading for the low, low price of $4.
—


——————————————-
US Transport Projects #4
USTP#4 includes:
Boeing Model 473-13: An early twin-engine jetliner
ICARUS Troop Transport: 1,200 marines, anywhere, anytime
Republic Model 10 SST: A little known SST competitor
Lockheed CL-593: A giant, if slow, logistics transporter
Boeing 763-059 NLA: A whole lotta passengers in one place
Fairchild M-534: A B-36 converted into a vast cargo carrier
Lockheed CL-1201: Probably the largest aircraft ever designed
Oblique All-Wing Supersonic Airplane: A supersonic variable-orientation flying wing
USTP#4 can be purchased for downloading for the low, low price of $4.
—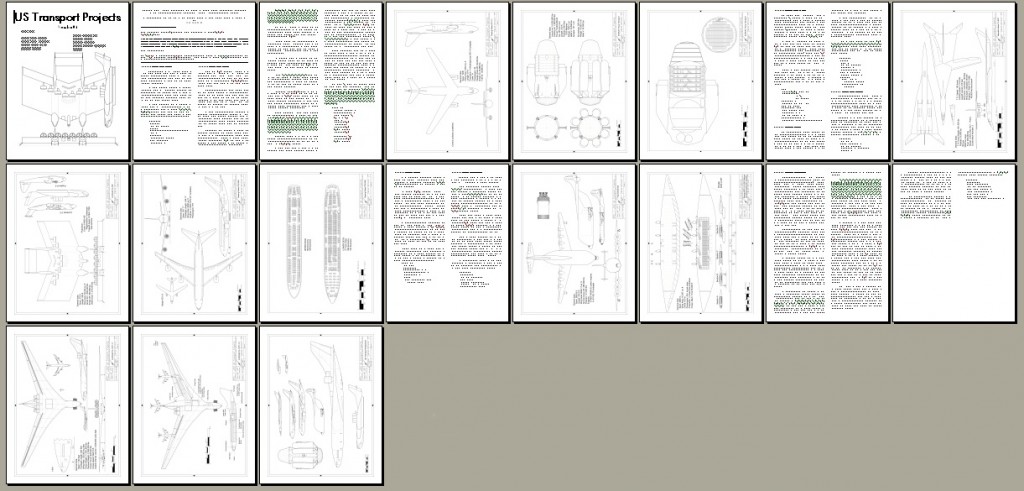 ——————————
US Launch Vehicle Projects #2
USLP#2 includes:
Juno V, 4 stage: An early design that became the Saturn rocket
Boeing "Space Freighter": a giant two-stage spaceplane for launching solar power satellites
Boeing NASP-D: A rare look at an operational National Aerospace Plane derivative
LLNL Mockingbird: The smallest SSTO ever designed
Boeing Model 922-101: A fully reusable Saturn V
NAR Phase B Space Shuttle: a fully reusable two-stage concept
Martin Marietta Inline SDV: A Shuttle-derived heavy lifter
Scaled Composites Model 351: The Stratolaunch carrier aircraft
USLP#2 can be purchased for downloading for the low, low price of $4.
—