More than sixty years ago, the US government and various aeronautical contractors began examining the application of atomic energy to powering aircraft. A mountain of documentation was produced, much of which has been lost, forgotten or is still locked behind classification. But some things come out from time to time that provide tantalizing hints as to what the designers of the time were thinking.
One such document is a short memo from June, 1948, describing a lecture given to unnamed staff by one William van Zelm of the Glenn L. Martin Corporation, describing aspects of aircraft design for atomic flight. Being simply a description of the lecture, the details are lean, but a sketch was included: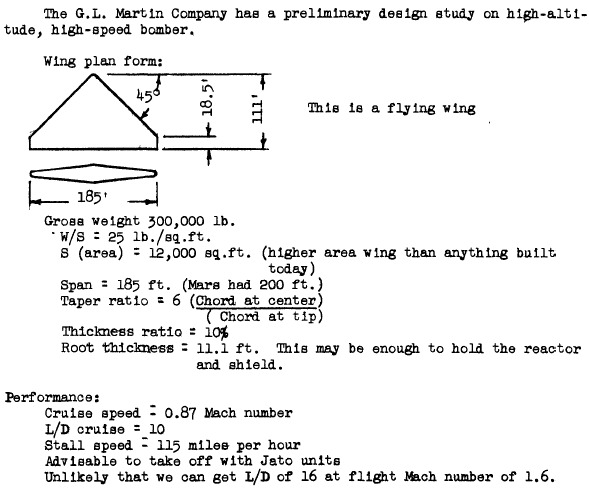 The design, crude and simply reproduced as it is, looks very reminiscent of a number of "stealth" aircraft that have been designed over the years including the A-12 Avenger II and the General Dynamics "Sneaky Pete" concept. This one, of course, was nuclear powered and apparently capable of supersonic speeds. It would be interesting to find more about this particular design.
The memo can be downloaded HERE.
Much more aerospace stuff is available via the APR Patreon.